"Today's Guangdong is a far cry from where I came from and I'm lucky to have been a part of it." Looking back on the 17 years spent in Guangdong, Harry Sayadin, president of the American Chamber of Commerce in South China, said.
The Special Report on the Economic Situation in South China, published by the South China Chamber of Commerce in March, shows that Guangzhou and Shenzhen are the top two destinations for China's most popular investments.
"The number of members of the American Chamber of Commerce in South China has increased from 211 when I first arrived to 3,000 today." Harry said his story was not an exception.
The term "access", which used to sound stiff and serious, is becoming soft and approachable, with a series of policies on foreign investment and talent introduced by Guangdong in recent years. More foreign-funded enterprises have entered Guangdong, more high-end talents have settled in Guangdong, and "Yang Lao Guang" has become a beautiful footnote for foreigners to participate in Guangdong's development.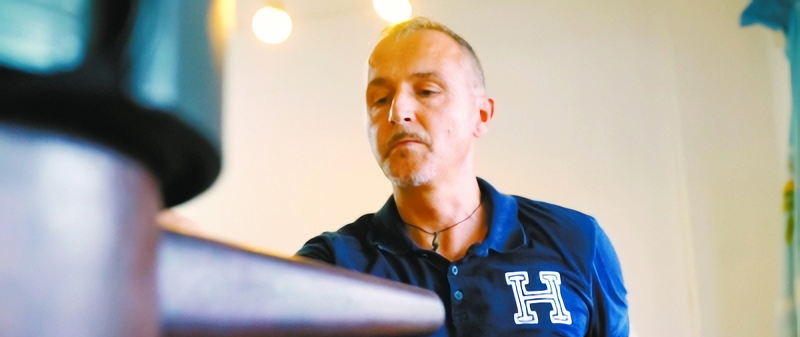 An Italian Pilot's Dream of Chivalry in Foshan
In September 2012, the Italian, Moreau Marchesen, made his first trip to Guangdong. The only impression he has is that Hong Kong is particularly close and its economy is growing very fast, making it one of China's richest regions.
Now, Mr. Moro has worked for China Southern Airlines for more than six years and has become a Guangdong Tong — using WeChat to contact family and friends, Travel by taxi to Didi, and often with Chinese colleagues meet to the tunnel Cantonese restaurant to look for food...
On weekdays, Moreau mainly flies Airbus A330. Because the flight crew is not fixed, Mr. Moreau usually arrives a few hours early in the flight preparation room to talk to his colleagues. "They're very friendly, Metropolis English." He said...
It was under the "matchmaking" of zealous colleagues that Moreau realized his martial arts dream for many years -- the end of 2013, In Foshan, he formally worshiped Lu Baijun, the master of Wing Chun, and began to learn martial arts.
"The opening up of China has brought about important changes. More and more foreigners like me come here to work, to do business and to learn." Moreau lamented.
"Guangdong has always been at the forefront of internationalization. The perfect 'software and hardware', to the talent and the enterprise's attraction is self-evident. " PPF Group China President Lumir Malone also believes that Guangdong is a very international market, in recent years, the implementation of the "foreign capital 10" series policies. More than 60% of the world's top 500 enterprises settle here, and a good international talent development platform is gradually formed. "Guangdong is the first place for China to open to the outside world and has seen how foreign investment can help economic growth." 'What struck me was that Guangdong opened up a number of areas for foreign investment and provided a good platform and opportunity for foreign investment,' Mr. Harley said.
In Harry's view, Guangdong's policies and infrastructure are also attractive to foreign investment. "Guangdong has also provided good support and protection to the new technologies introduced by foreign enterprises." Harry said that Guangdong's rapidly developing telecommunications, transportation, cargo handling and supply chain industries also provide a good guarantee for foreign-funded enterprises.
"Enjoy the peaceful, modern working and living atmosphere here."
Peter Robie, a professor of medicine, was also drawn to Guangdong to work at the Precision Medicine and Public Health Research Center at Tsinghua-Berkeley Shenzhen University. "In Shenzhen, both the government and social capital are very supportive of cancer targeting drug research, which will allow research results to be effectively transformed and put on the market as soon as possible." He revealed that a start-up has been set up in Shenzhen to develop two new candidate drugs for cancer patients.
"I am grateful for the warmth and friendliness that China has conveyed and I am enjoying the peaceful and modern working and living atmosphere here." Pitt has worked on cancer treatment, and since moving to Shenzhen from Singapore, both the workplace and local governments have been very supportive, and a senior laboratory scientist from India has moved in with him, and families are better placed in Shenzhen as well.
"My wife is Chinese and she has lived abroad before, and my family is very happy and supportive of my choice of Shenzhen." That's why this important decision has become so much easier, Pitt said.
The improvement of urban infrastructure in Guangdong has also paved the way for attracting talents, especially retaining them. "I remember the old Baiyun airport, when I couldn't even find a sign telling me when the flight would take off or land." Thinking back to 1991, when I first came to Guangzhou, Harry said, At the time, Guangzhou looked like a small city, but now hundreds of kilometers of high-speed trains connect the cities, and with the completion of Baiyun airport terminal T2, the traffic is more convenient.
As Guangdong's economy undergoes high-quality transformation, more and more people see more opportunities in the construction of Free Trade Zone, Hong Kong, Macau and Dayan. "Guangdong has always been at the forefront of internationalization." In recent years, Guangdong has taken advantage of free trade zones, Shenzhen-Hong Kong cooperation, the "Belt and Road", Guangdong-Hong Kong-Macau-Grand Bay area and other opportunities, Mr. Lu said, With other Bay Area cities to develop, through the integration of the rich resources of the Bay area, can form a very strong advantage, to form a strong attraction.
■Voice
Lumir Malone, President of PPF Group China, Promotes Foreign Talent to Guangdong in Many Ways
How to let more foreign talents to enter Guangdong needs to solve two problems: how to attract talents and how to retain them. Mr Lumir suggests that there are three ways to go.
The first is to provide opportunities for development. On the one hand, promote the internationalization of the local market, attract foreign investment, and create a development platform that is even more promising than other international markets. On the other hand, we should tap into the potential of the market and enrich the industrial system so as to provide foreign talents with diversified and multi-tiered opportunities for development, Provide differentiated growth space where foreign talent from all fields and at all levels can find opportunities that suit their own development and develop their talents freely and fully.
The second is attention. The establishment of a sound talent management and service mechanism by the Government is an important factor in retaining talent. At the same time, the government should also guide the construction of a good and sustainable industrial development environment, which will help to create a sense of belonging and secure development in Guangdong.
Besides, make life easier. Sound supporting facilities, flexible and efficient administrative services, and internationally relevant resources are important in attracting foreign talent. "For example, I live in Shenzhen and often go to Beijing and Tianjin on business. The convenient high-speed rail and developed mobile payments bring great convenience and comfort."
memorabilia
"Ten Articles of Foreign Capital" and Its Revision
◎In December 2017, Guangdong introduced "10 Articles of Foreign Investment", and in September 2018, it published a revised version of "10 Articles of Foreign Investment".
The policy is clear: to further expand the field of market access and to allow the establishment of wholly foreign-owned enterprises in nine fields; Persons holding permanent resident identity cards of foreigners who establish technology-based enterprises in Guangdong shall be given the same treatment as Chinese citizens; We will gradually extend to the whole province six policies and measures to support the construction of Guangdong Pilot Free Trade Zone.
To abolish the foreign shareholding restrictions of Chinese-funded banks and financial asset management companies established in Guangdong and support the simultaneous establishment of branches and subsidiaries of foreign banks in Guangdong; We will support the establishment of joint-venture securities companies, securities investment fund management companies, futures companies and life insurance companies in Guangdong, and the ratio of foreign shares shall not exceed 51%. To support foreign natural-person investors working in Guangdong to open A-share securities accounts.
We will speed up the construction of the China (Guangdong) Intellectual Property Rights Protection Center and establish and improve a mechanism for the rapid examination, confirmation and protection of patents. The system of direct train protection for intellectual property rights of foreign-funded enterprises shall be implemented.
When importing R&D equipment, reagents and samples, foreign-funded R&D centers may choose the mode of pre-inspection, pre-declaration and physical clearance. Foreign-funded R&D centers are allowed to import second-hand key equipment for R&D (the entry period shall not exceed 1 year).
Negative list
◎At present in GDFTZ, the negative list of foreign investment has been reduced from 190 in 2016 to 45 in 2018, and 99 per cent of the newly established foreign-funded enterprises have been established through recordation.
Above information WWW.8888VISA.COM for you to introduce the content, Welcome back to the website of WWW.8888VISA.COM, WWW.8888VISA.COM is committed to providing enterprises, foreigners and their families with the most professional and extreme stay in China and visa consulting services. As the most professional visa consulting and solution provider in the Pearl River Delta region, we are able to satisfy any of your residence visa consulting needs.
WWW.8888VISA.COM
Hotline: 135-3801-5740
Scan the QR code and get more information on the HR and visa policies for foreigners working in China