September 4, 2018 AM, The Exit and Entry Administration Office of the Pudong Public Security Bureau issued the first working residence permit for foreigners in Shanghai Pilot Free Trade Zone for ZHANG ZHENG from the United States (Note "Part-time" ). After getting the license, Mr. Zhang can be employed as a professor in Shanghai New York University and a foreign talent in the computer field in the "double creation" demonstration base to start his own business on a part-time basis.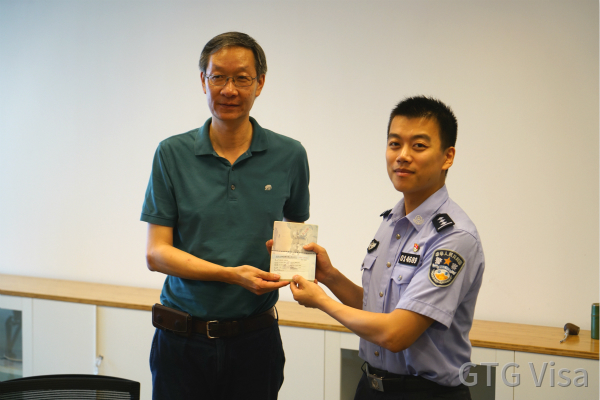 As a tenured professor at New York University in Shanghai, Mr. Zhang is a computer science expert whose major in computer is needed for project development by Amazon Information Services (Beijing), Shanghai Branch, However, before the implementation of the new policy, as China has "no part-time jobs" in the employment of foreigners, a high-end person like Mr. Zhang could not engage in both university professorship and project development.
With the help of publicity and help from Pudong, New York University in Shanghai learned about the policy of the Juying Project, And prepare relevant materials to the Pudong Exit and Entry Administration Office successfully submitted the application for a work residence permit (note "part-time" ). And Mr. Zhang has also become the first expatriate since the Pudong Entry and Exit Project implemented the British Union's immigration policy.
It is reported that according to Xi's General Secretary's directive to "promote the deep integration of industry, education and research to achieve seamless connection between science and technology and industry" The Ministry of Public Security and the Shanghai Municipal People's Government jointly launched Three New Policies on Entry and Exit from Shanghai (2017-2021) in January 2018, One of the measures is to allow foreign talent to take part-time jobs in "double-creation" and "double-creation" units to create businesses, To clarify the foreign talents working in the "double-self" zone and the "double-creation" demonstration base, to the "double-self" zone, "double-creation" demonstration base and other units of the "double-creation" demonstration base part-time innovation and entrepreneurship, The applicant may apply for a work residence permit (note "part-time" ) upon confirmation by the Administration Committee of the "Double Self" Zone or the designated competent authority of the "Double Creation" demonstration base. This policy breaks through the restriction that foreign talents can only work in one company, and also provides more talents reserves and choices for employers to hire foreign talents, so as to attract more foreign talents to stay in Shanghai for further development.
Above information WWW.8888VISA.COM for you to introduce the content, Welcome back to the website of WWW.8888VISA.COM, WWW.8888VISA.COM is committed to providing enterprises, foreigners and their families with the most professional and extreme stay in China and visa consulting services. As the most professional visa consulting and solution provider in the Pearl River Delta region, we are able to satisfy any of your residence visa consulting needs.

WWW.8888VISA.COM
Hotline: 135-3801-5740
Scan the QR code and get more information on the HR and visa policies for foreigners working in China