The Exit and Entry Administration Detachment of the Public Security Bureau of Chizhou City, Anhui Province, issued the Permanent Resident Identity Card of the People's Republic of China for the Myanmar woman YANSHAUKSHOW (Chinese name: Yang Xiaosi).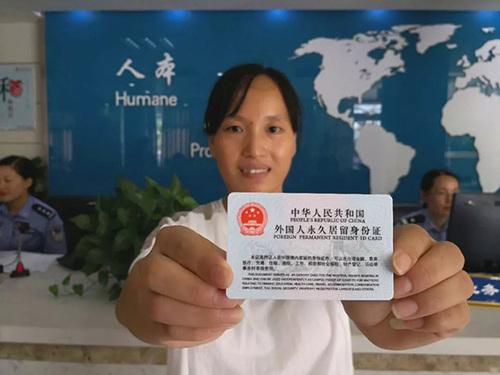 Chizhou City, the first foreign permanent resident identity card holders from Myanmar, is a foreign bride of the Ma Ya street office in Guichi District. In November 2011, YANSHAUKSHOW and her sister married a pair of brothers on the streets of Ma'ya, Guichi District, on the same day. During their stay in China, YANSHAUKSHOW and her sisters abide by Chinese laws and regulations, live frugally and live in harmony.Over the years, YANSHAUKSHOW has also enthusiastically provided voluntary services to the Exit-Entry Management Detachment of the Police Bureau of Chizhou City with its proficiency in Chinese.
On 6 February 2017, the Reform Program for the Facilitation of Permanent Residence Permits for Foreigners was considered and adopted by the Central Leading Group for Comprehensive and Deepening Reforms at its thirty-second session. Reform measures include renaming the term "permanent resident permit for foreigners" as "permanent resident identity card for foreigners", embedding the information on the management of the issuance of the chip-based storage document in the document, etc.
It is understood that "China Green Card" refers to the second generation of ID card technical standards, embedded chip, through the ID reader machine machine machine machine machine to realize machine-readable identification, but also in the function of the ID card in line with the ID card. Where a holder of a permanent resident identity card of an alien handles financial, educational, medical, transportation, accommodation, communications, work, taxation and social insurance, property registration, litigation and other matters within the territory of China, the holder may use it alone as an identity document.
After YANSHAUKSHOW was given the alien's permanent resident identity card, he said excitedly: "I didn't expect to get China's green card so smoothly. I'm so happy! My family has just added two treasures. It's a double blessing. Chizhou is really a good place, special thanks to the Chizhou Public Security Bureau Exit and Entry Management Detachment for many years to our concern and care. "
It is reported that foreigners permanent resident identity card ( Foreign Permanent Resident ID Card), The Chinese word for "eternal residence card" is China's "green card".
Above information WWW.8888VISA.COM for you to introduce the content, Welcome back to the website of WWW.8888VISA.COM, WWW.8888VISA.COM is committed to providing enterprises, foreigners and their families with the most professional and extreme stay in China and visa consulting services. As the most professional visa consulting and solution provider in the Pearl River Delta region, we are able to satisfy any of your residence visa consulting needs.
WWW.8888VISA.COM
Hotline: 135-3801-5740
Scan the QR code and get more information on the HR and visa policies for foreigners working in China