The first such visa was recently granted in Shanghai, and Marc Olivier, a French entrepreneur, became the first foreign entrepreneur in Shanghai to receive one. The "start-up visa" is called "Private Affairs Residence Certificate" and is a convenience measure introduced by Shanghai to encourage foreigners to come to China and start their own businesses in Shanghai.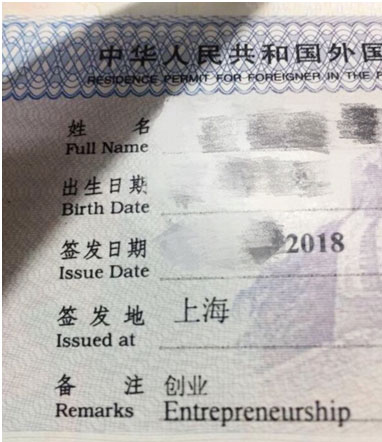 The new policy will benefit foreign students who have the will to innovate and start a business in Shanghai, foreigners who plan to invest or start a business in Shanghai, outstanding foreign graduates who have not completed two years of major domestic universities or well-known overseas universities and have started a business in Shanghai.
At the beginning of last year, KTech National Start-up Center learned from consulates in China that there were pain points for overseas talent to start a business in China, so the process of issuing a start-up visa was actively promoted. With the support of Changning District Human Resources and Social Security Bureau, Changning District has taken the lead in piloting the "Start-up Visa" service window in Shanghai recently. Hongqiao International Business Service Center is a one-stop service for the expatriates who come to Shanghai and Changning to set up their own business.
Mark, a French creative person who has worked in Shanghai for many years, quit his job earlier this year and started his entrepreneurial career, according to staff at Hongqiao International Business Service Center. Without a steady job, visas are the biggest problem for him to stay in China.
Knowing mark's demand, changning district human society bureau and hongqiao international start - up service center attach great importance to it, appoint special person to be in charge, intervene ahead of time, introduce to him the difference between applying for "start - up visa" and applying for a visa through the consulate in france. The French young man decided to become the first foreigner in Shanghai to "eat crabs" after learning that it was easy to get a "start-up visa". Hongqiao International Business Service Center reviewed his business project and collected all his visa materials. Mark received his first "start-up visa" in Shanghai just five working days after submitting his materials.
The handsome Mark said he was very happy to get the visa in such a short time, which solved his worries about starting a business in Shanghai. He also said the policy would be useful for foreigners to start businesses in China.
According to the report, in addition to meeting the specific requirements for benefiting people, the Start-up Visa requires foreign entrepreneurs to have a complete start-up plan and to produce a certificate of innovation and entrepreneurship issued by economic development zones, high-tech parks or professional platforms, such as incubators and so on.
Above information WWW.8888VISA.COM for you to introduce the content, Welcome back to the website of WWW.8888VISA.COM, WWW.8888VISA.COM is committed to providing enterprises, foreigners and their families with the most professional and extreme stay in China and visa consulting services. As the most professional visa consulting and solution provider in the Pearl River Delta region, we are able to satisfy any of your residence visa consulting needs.
WWW.8888VISA.COM
Hotline: 135-3801-5740
Scan the QR code and get more information on the HR and visa policies for foreigners working in China